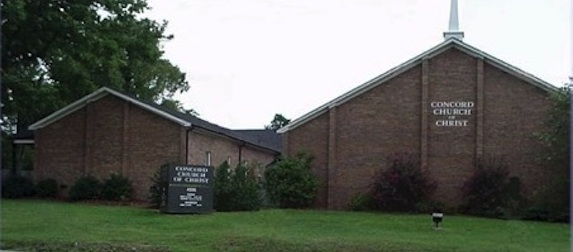 Service Times
Sunday Morning
9:30 AM Bible Study
10:25 AM Worship
Sunday Evening
6:00 PM Worship
Wed Evening
7:00 PM Bible Study
Learn more about us

1000 VOICES - Nov. 7 & 8
A wonderful opportunity to sing praises to our Lord will once again be held this fall. Everyone is invited to attend 1000 VOICES - "God With Us" on Nov. 7 & 8, 2014. The Friday evening session on practicing new songs will be held at our church building at 7:30 PM. The Saturday event will begin at 10:00 AM at the Cabarrus Arena and Events Center, 4751 NC Hwy 49 North, Concord, NC 28025. For more information go to www.1000voices.org/2014-event.
2014 FALL QUARTER BIBLE CLASSES
The following Bible classes will be available for the fall quarter. Please join us as we endeavor to follow God's plan for our salvation.
ADULT CLASSES
Sunday morning: "Luke's First Account" taught by Don Wilkins, "Timothy and Titus" taught by Adam Jones, "Titus: How to be a Godly Woman In Today's Culture" taught by Carla Jones.
Wednesday evening: "Moses to the Promised Land" taught by Greg Crawford and "Portrait of Peter" taught by Tommy Poarch
HIGH & MIDDLE SCHOOL CLASSES
"Captivity and Return" and "Worship in Spirit and Truth"
PRE-K THROUGH 5th GRADE
"Our Spiritual Heritage - God Is Wise; He Makes Great Plans"
THREE YEAR OLDS
"Bible Times" (Basic Bible truths for young hearts)
INFANTS - (Mothers of infants interact with children in Bible stories and simple songs)
SUNDAY EVENING GROUP MEETING
Please be reminded that we will have NO evening worship at the church building the second Sunday of the month. The Group meetings will be in lieu of that service.
Hosts are listed in the bulletin, announcements and website as the information is given.